Meet the NongShim
One of the three principle philosophies of Nongshim is "sharing products with neighbors and pursuing happiness together." This philosophy has been Nongshim's underlying strength for the past 50 years, which was naturally rooted in its corporate culture.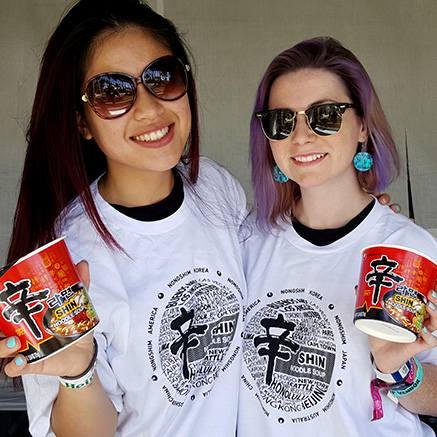 Taste NongShim Feel the Happiness
One of the three principle philosophies of Nongshim is "sharing products with neighbors and pursuing happiness together." This philosophy has been Nongshim's underlying strength for the past 50 years, which was naturally rooted in its corporate culture.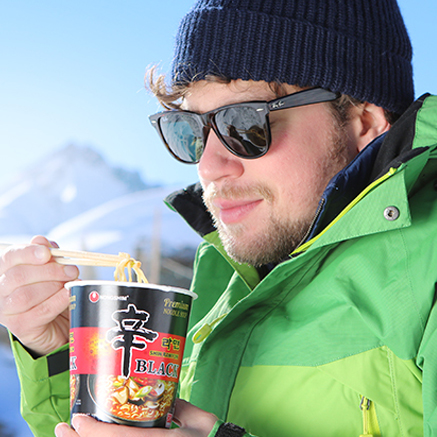 Love sharing accompanies a bigger happiness than otherwise.
Nongshim's 'Social Service Activities' aimed at local communities, aims to "Firstly, take care of the local community and surrounding neighbors in an area." For this reason Nongshim launched its 'Social Service Corps' and organized groups in each Nongshim establishment in order to carry out the care and share activities that are customized to the characteristics of each local community. The most outstanding activity is to save the local environment. Nongshim carries out environment purification activities in local areas on a regular basis.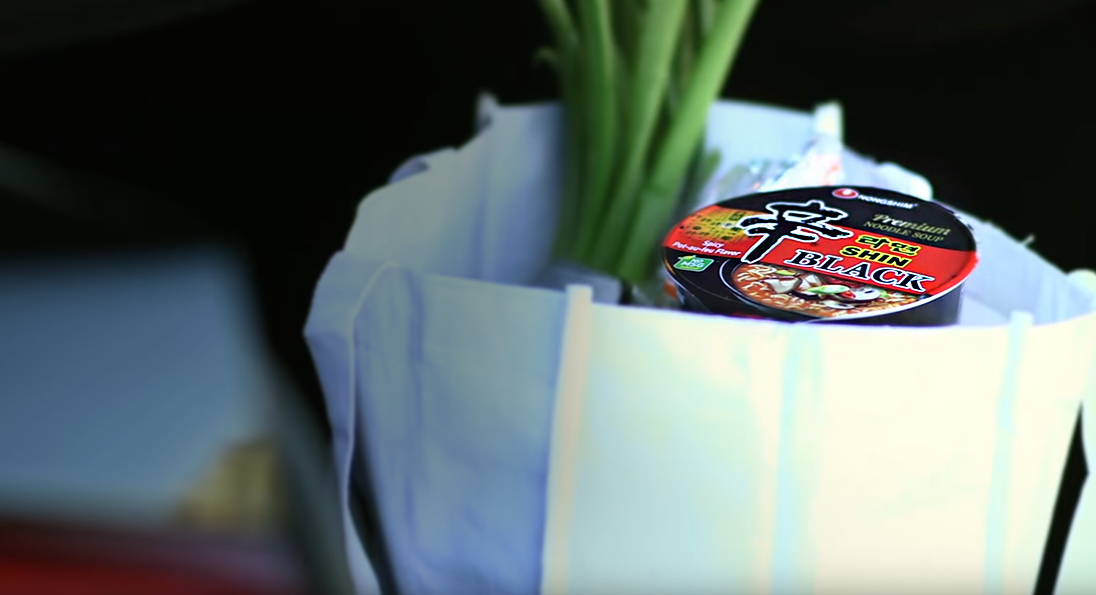 Product Journey
The complete production process that makes Nongshim's Shin Black Cup. Filmed in our Rancho Cucamonga production facility.
NongShim Awards
Stevie Awards (2012 ~ 2014)

The Stevie® Awards are the world's premier business awards. They were created in 2002 to honor and generate public recognition of the achievements and positive contributions of organizations and working professionals worldwide.

Chefs Best Award (2003 ~ 2015)

The Chefs Best Award of 2003-2015 was awarded to Nongshim by American Culinary Institute for Nongshim noodle's superior taste, appearance, texture and flavor. ChefsBest® is the independent judging organization dedicated to recognizing and honoring America's best food and food-related products. ChefsBest® judge many product categories each year. ChefsBest® use panels of expert professional chefs that have been sensory certified as Master Tasters® . In totally unbiased conditions, they use a sophisticated judging methodology to judge which products are America's best.

E=mc2 Award (2012)

The E=mc2 Award recognizes excellence in innovation and solutions to current and future manufacturing challenges in the Inland Empire.

Telly Awards (2014)

The Telly Awards is the premier award honoring the finest film and video productions, groundbreaking web commercials, videos and films, and outstanding local, regional, and cable TV commercials and programs.
Quality Standard
Quality

Quality assurance and food safety are Nongshim's top priority. Our quality assurance system extends from farmers & suppliers to table.

Materials

To meet quality standards, especially in food industry, quality assurance is a must; ensuring the quality of raw materials is a vital step. To exceed quality standards, we perform detail inspection of not only every raw material, but also packaging materials. We only receive ingredients from approved suppliers. Chemistry testing is performed for verification purpose such as moisture content, ash, SHU, quality of oil, fat content, protein content, etc. We also perform micro testing on total bacteria count, coliforms, E. coli, salmonella, listeria and staphylococcus to ensure safety of raw materials.

Process

All of our production facilities around the world are highly automated with the latest technology and designed to ensure our products to meet the highest quality and food safety standards. Our factories are built to produce safe products by ensuring safety of any materials that will come into contact with food including air, steam, water, and equipment.
All employees entering production areas must wear clean production clothing and dedicated shoes. Anyone entering the production line including employees must go through air shower and must wash and sanitize their hands before entering.
State of the art equipment is used for continuous weight control, and every unit produced is passed through X-ray machines. Our skilled Q.C. technicians also inspect WIP (Work in Process) and finished goods to assure compliance with our strict specifications

SQF

Nongshim America is SQF certified. SQF is recognized by retailers and foodservice providers around the world who require a rigorous, credible food safety management system. Using the SQF certification program helps to achieve consistent product quality and food safety at optimum cost. The SQF Program is recognized by the Global Food Safety Initiative (GFSI) and links primary production certification to food manufacturing, distribution and agent/broker management certification. Administered by the Food Marketing Institute (FMI), SQF benefits from continual retailer feedback about consumer concerns. These benefits are passed on to SQF certified suppliers, keeping them a step ahead of their competitors. SQF is the only scheme to integrate a quality component as well as food safety.

Packaging

Packaging plays a crucial role in ensuring our products reach consumers in a safe condition. Our packaging contains important information including cooking direction, expiration date, ingredients, nutrition facts along with allergen risks.
Packaging also enable traceability. Every product produced in our facilities has unique labels that tell us when a product was produced, what materials and ingredients were used, and where/when those were came from/in.
According to WHO (World Health Organization), the great majority of people would experience a food or water borne disease at some point in their lives. More than 200 diseases are spread through food. Foodborne diseases affect vulnerable people harder than other groups. Food contamination also affects the economy and society as a whole. Globalization makes food safety more complex and essential. Nongshim well knows the risks of food safety and consumers must be well informed on food safety practice. This is why we constantly conduct rigorous inspections on every step of production and this is why we constantly improve our system and procedures. Ultimately, our goal is to provide safe, high quality food that meet the expectation of customers.

Taste the difference and your view of the world will change
Our vision is to become a global food company that provides a wide variety of unique and excellent quality products. We are committed to reach our vision with the focus on the most important part of the company: the consumers. We pursue health and happiness of our consumers under our global slogan, "Better Foods & Services for Better Life." With an endless effort in product development and customer service, we strive to improve health and lifestyle of our consumers all around the world.