Chinese home style tomato egg soup (sihongsijidantang 西红柿鸡蛋汤) was the motif of this menu.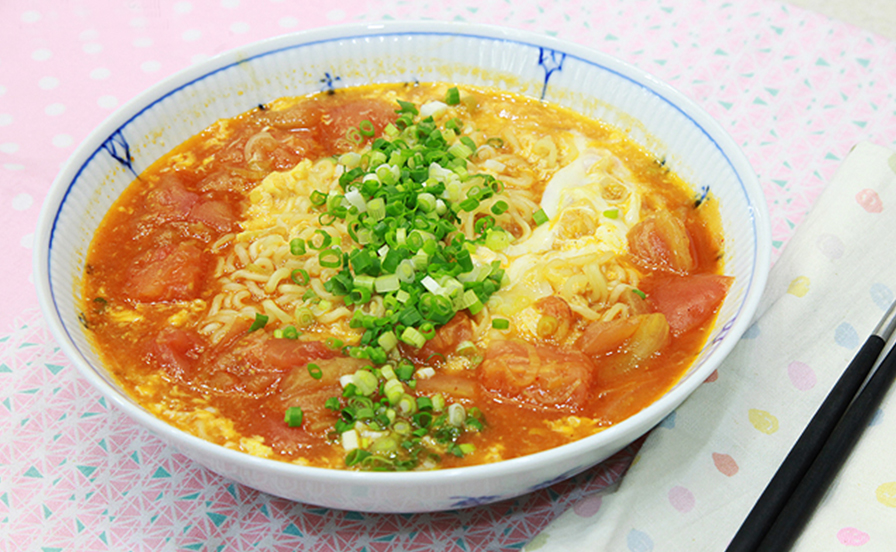 The Recipe
"Spicy SHINRAMYUN and the flavor of egg and tomato harmonize and taste exotic."
Ingredients
Shin Ramyun (1 Bag)
550ml of water
2 eggs
2 aged tomatoes
tomato paste 5g
green onion 40g
chives 15g
oil 20g
Cooking Direction

1) Remove the top of the tomatoes and slash in a crisscross pattern with a knife.

2) Wash green onion and chives and remove the roots. Chop into 0.3cm-thick slices.

3) Parboil ingredients from step 1 in boiling water. Soak in cold water and peel. Cut into 2cm-sized pieces.

4) Break eggs and whip in a bowl.

5) Grease a pot and fry the green onion from step 2 over a high heat for 10~20 seconds.

6) Add tomato paste and fry gently over a low heat for about one minute. Add the tomato and fry for one more minute.

7) Boil water with noodles and powder soup for 4 minutes and 30 seconds and whip the eggs from step 3 10 minutes before removing from heat.

8) Put in a bowl and lay on the chives from step 2.