Saturday Lunch Time Fun!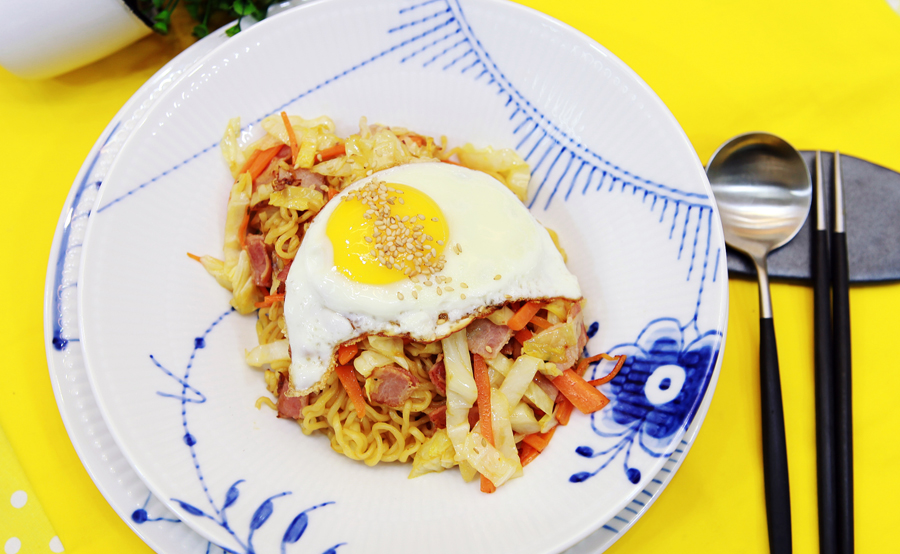 The Recipe
"Shin Ramyun meets Yakisoba to create a spicy but delicious soup-less noodle dish."
Ingredients
Shin Ramyun (1 Bag)
Water (2 ½ Cups)
Bacon (2 slices)
Carrots (20g)
Cabbage (1 Cup)
Oyster Sauce (1 tsp)
Soy Sauce (1 tsp)
Whole garlic (5 cloves)
Egg (1)
Sesame Seeds
Cooking Direction

1) Wash and slice the cabbage into thin slices.

2) Wash and slice the carrots into long, thin slices.

3) Cut the bacon into ½ inch pieces.

4) Wash and slice the garlic into thin slices.

5) In a bowl, mix ¼ cup of water, oyster sauce, soy sauce, and 4 tsp of the soup powder.

6) Fry the egg and set aside.

7) Boil the noodles with the remaining amount of water, vegetable flakes, and soup powder. Cook the noodles for 2 minutes and drain.

8) In an oiled pan, sauté in order the garlic, bacon, and cabbage. Add the noodles and sauce, and cook for another 2 ½ minutes.

9) Place the noodles on a plate, top it with the egg, and sprinkle a pinch of sesame seeds.