Simple Hawaiian Flavor Ramyun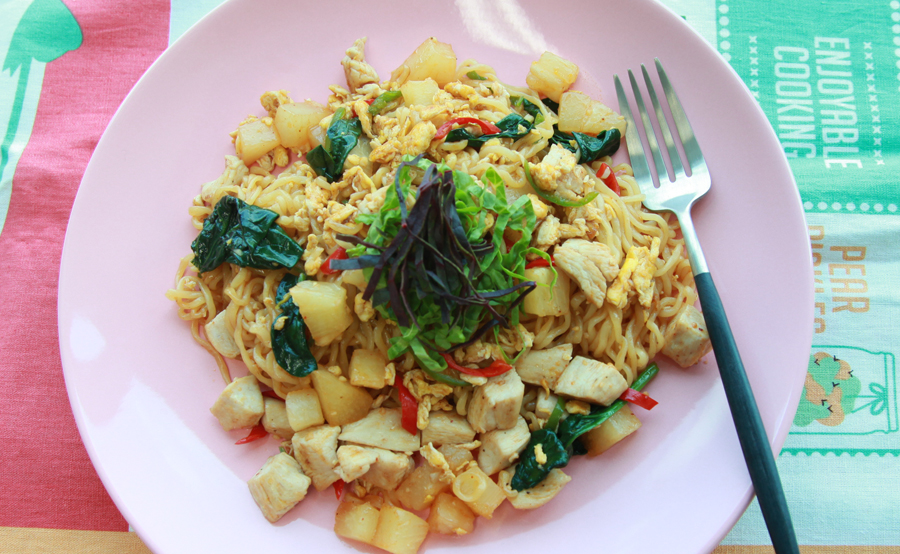 The Recipe
"Experience a whole new twist of ramyun by adding some Hawaiian flavor!"
Ingredients
1 bag of Shin Ramyun
40g of Pineapple
90g of Chicken breast
20g of Spinach
Half (6g) of Chili pepper
1 (34g) of Green chili pepper
6g of Crushed garlic
6g of Shin Ramyun seasoning
30ml of Water (for sauce)
4ml of Sesame oil
1 Egg
20ml of Olive oil
Cooking Direction

1) Mix crushed garlic, Shin Ramyun seasoning, and sesame oil.

2) Dice pineapple and chicken breast
(1*1*1 cm).

3) Cut peppers into half, remove all seeds then slice them by in 2mm thickness.

4) Wash spinach and keep leaves only.

5) Boil Shin Ramyun noodles for 4 mins. Rinse in cold water then drain them.

6) Swirl the pan with olive oil, saute chicken breast over medium-high heat for 1 min. (set it aside).

7) On a same pan, make scrambled eggs.

8) Saute chicken breast, peppers and pineapple for 30 sec.

9) Add cooked noodles and saute for 10 sec., then add the sauce (1) & Spinach and saute for 20 more sec.