Bacon, garlic, and onion cooked in a thick creamy sauce, then tossed with the acclaimed Shin noodles.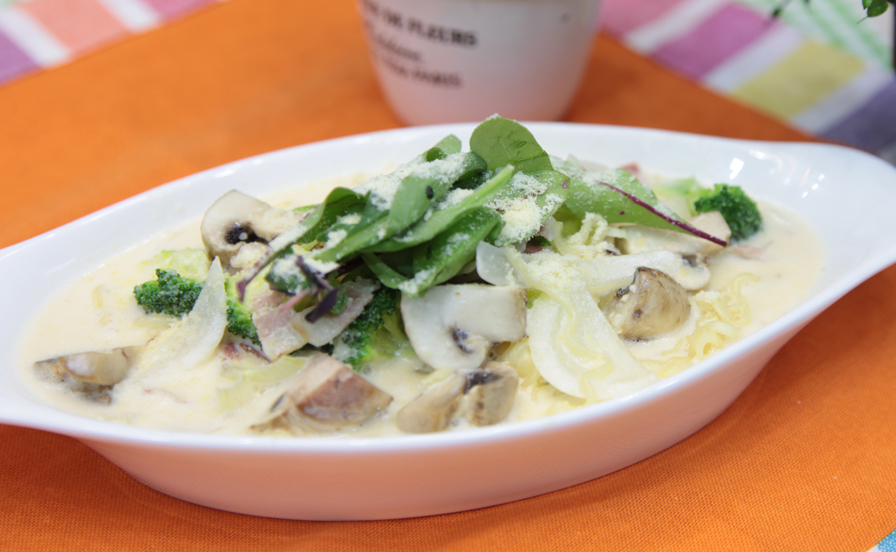 The Recipe
"This delectable, mouth watering combination of creamy yummy goodness will satisfy any noodle craving. "
Ingredients
Shin Ramyun 1 bag
1 Cup of Whipped Cream
½ Cup of Milk
1 Teaspoon of Shin Ramyun Soup Base
Bacon 3 strips
Mushroom 5 pieces
3½ oz of Broccoli
Onion ½
1 Teaspoon of Garlic
2 Teaspoons of Parmesan Cheese
½ Teaspoon of Salt
½ Teaspoon of Black Pepper
Young Leaves 10g
Cooking Direction

1) Stir-fry garlic, onion and bacon in an oiled pan.

2) Add whipped cream, milk, and Shin ramyun soup base into the pan.

3) Boil Shin ramyun noodle for 2 minutes and drain the noodles.

4) Add the boiled-noodle, Salt, black pepper, parmesan cheese, and broccoli into the pan.

5) Put noodles on a plate, and top with young leaves.