Applied Mexican Chili to Shin Ramyun.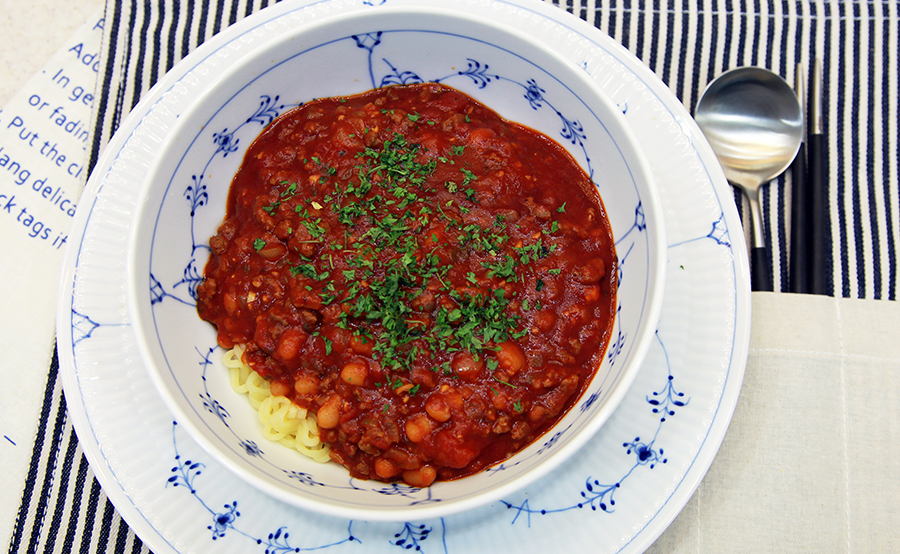 The Recipe
"Top your ramyun with baked beans and spicy chili sauce to create a fusion of Korean and Mexican flavor."
Ingredients
1 bag of Shin ramyun
4g of soup base
60g of crushed onion
10g of crushed garlic
1g of parsley
8g of Cajun powder
5g of paprika powder
2g of cayenne pepper powder
100g of chopped beef
18g of butter
120g of chicken broth (liquid)
170g of tomato sauce
60g of baked bean
Cooking Direction

1) Season chopped beef with salt and black pepper.

2) Stir-fry 1 in a buttered pan with medium heat.

3) Add crushed onion and garlic into 2 and cook for 30 seconds, then add baked bean and cook 1 more minute with low heat.

4) Add Cajun, cayenne pepper, paprika, and soup base and stir-fry for 30 seconds, then add chicken broth and boil down until half of broth is gone.

5) Add tomato sauce and boil down for 2 minutes.

6) Cook noodle with boiling water for 4 minutes and 30 seconds and place noodle on the separate bowl, then put prepared chili and parsley on top of the noodle.